We at the Freedom From Religion Foundation have recently been making the media sit up and take notice.
None other than the Washington Post republished a Religion News Service article extensively quoting FFRF Co-President Dan Barker on a project to clear public property of religious signs:
Dan Barker, a Christian minister turned atheist, understands why people would feel compelled to place  … religious signage. He used to do the same, he said.
"I used to think Jesus is going to come any minute now, and it's either heaven or hell. So maybe there's some little laws that are broken, but what's more important than trying to get the message out?" said Barker, who now is a co-president of the Freedom From Religion Foundation's board of directors.
"I think most of these signs are sincere. … The people who put them up really, really believe it, or they wouldn't go through all that trouble," added Barker, who attended the art exhibition.
Barker noted the right to free speech, but he said this kind of religious signage — without a permit — does not belong on the "public property that belongs to all of us."
Dan is so right about this — and it's great to see one of the nation's most prominent media outlets featuring his perspective.
Jim Hightower gives us a shoutout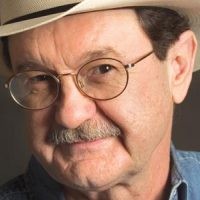 Nationally renowned commentator Jim Hightower mentions us warmly in a recent column of his that deals with all the awful book-bannings around the country.
"The so-called 'Good Book' is replete with the gross and explicit sexual material that Republican book censors call 'harmful,'" he writes. "Indeed, a feisty civil-libertarian organization named Freedom From Religion Foundation gives away book labels you can stick in Bibles, warning that 'literal belief in this book may endanger your health and life' (www.ffrf.org)."
Thanks, Jim, for the shoutout!
Local media outlets discover us
Our emphasis on the absurdity of book-bannings that spare the bible has gotten coverage elsewhere.
"A letter from the Madison, Wisconsin-based Freedom From Religion Foundation argues that the books already removed from Davis School District shelves 'appear to contain far less "objectionable" material than the Bible, which insensitively tackles issues such as racism, incest and sexual abuse,'" states a story in the Ogden, Utah, newspaper. "More broadly, the group argues against the notion of prohibiting books and in favor of having 'a diversity of viewpoints in school libraries.' But if the district is to enforce its sensitive materials policy, the Bible cannot be spared because it is a religious book, it says."
Read the rest of our extensive coverage in the paper here.
Our longstanding pressure on various school boards to end praying at its meetings may finally be bearing fruit in cities all over — and it is making us media-famous in those areas.
"The Ouachita [Louisiana] Parish School Board is expected to consider next month whether to abandon its practice of praying in the name of Jesus Christ during public meetings," the local paper reports. "During an interview with The Ouachita Citizen after the executive session, Monroe attorney Elmer Noah said a West Monroe resident filed a complaint with the Freedom from Religion Foundation about the School Board's practice of praying at the beginning of each meeting. The Foundation submitted a formal letter to the School Board expressing the resident's concerns. The Foundation is a nonprofit organization created in 1976 to advocate for atheists, agnostics and nontheists."
And in Norwalk, Ohio, our similar efforts made the local publication look at us in-depth.
"According to its website, the purposes of Freedom From Religion Foundation (FFRF) 'are to promote the constitutional principle of separation of state and church, and to educate the public on matters relating to nontheism,'" notes the Norwalk Reflector. "The FFRF works as an umbrella for those who are free from religion and are committed to the cherished principle of separation of state and church, its website states, adding, 'As FFRF's principal founder Anne Gaylor noted, 'To be free from religion is an advantage for individuals; it is a necessity for government.'"
Thanks for the publicity, folks!
FFRF joins press conference highlighting Catholic clergy abuse
An ongoing concern of ours has been Catholic clergy abuse, and so FFRF Senior Policy Counsel Ryan Jayne was alongside activists who held a press conference at the Wisconsin Capitol to raise concerns about the state Department of Justice's investigation into the issue. Read and watch a story from a Madison TV station here.
It's no surprise then that we were incensed when Pope Francis called pedophile priests "God's children" in need of "Christian love."


"A god that would produce such 'children' is hardly a deity to be honored, much less worshiped," said FFRF Co-President Annie Laurie Gaylor. "What about the victims — and their need for love, protection and justice?"
We demand IRS action against campaign donor churches


Problematic conduct by Protestant churches was the target of our ire, too. We're demanding that the IRS revoke the tax status of three Texas churches for donating to the campaign of a city council candidate. We have sued the IRS in the past to force it to take steps to enforce the law against tax-exempt entities from engaging in partisan politicking, and are prepared to sue again if necessary.
Disband your police chaplaincy program!
And with churches of various stripes facing our wrath, can chaplains be far behind? We are urging a Connecticut police department to immediately disband a chaplaincy program. Police chaplain programs are unconstitutional, we're emphasizing.
Our Ron Reagan ad is on 'Meet the Press' (and other shows)
One medium that we've had a lot to offer on in recent days is television. The iconic ad recorded by Ron Reagan for us will be airing on the national NBC network for the first time. The spot will appear on "Meet the Press" (the longest-running show ever!) the coming two Sundays. The ad will also be returning this month to CNN's "Anderson Cooper 360º." And we are additionally running the spot Fridays on "CBS This Morning." Check the ad out on these programs!
TV show guest tells all about growing up in cult


Our own TV show features this Sunday as its guest someone who was brought up in a cult — and managed to break free. "I was not raised to think of God's love as tender or nurturing, but instead as fire — the kind of fire that burns you," Michelle Dowd, the author of the newly published memoir Forager: Field Notes for Surviving a Family Cult, tells "Freethought Matters" co-hosts Dan Barker and Annie Laurie Gaylor. You can already watch the particularly poignant interview on our YouTube channel. Or find out where you can catch it Sunday on television.
Sex and religion on our radio show
On Freethought Radio this week, FFRF contributing author Barbara Alvarez talked to hosts Dan Barker and Annie Laurie Gaylor about abortion access and her new book (published by the American Library Association): The Library's Guide to Sexual and Reproductive Health Information. You can listen to the absorbing discussion here.
Why 'thoughts and prayers' don't cut it
Barbara had a riveting personal column this week about the Saturday Texas mass shooting near Dallas, divulging that her husband was at the same mall just a few days prior to the killings.
"I'm done with 'thoughts and prayers,' and I know you are, too," her piece concludes. "Let's enact sensible gun laws now."
Bible behind 'cry out' rape rule


Annie Laurie wrote an incisive piece on the E. Jean Carroll rape trial, pointing out that the bible is behind the "cry out" rape rule cited during the proceedings.
"As Carroll finally told her interrogator: 'I don't need an excuse for not screaming,'" Annie Laurie writes. "Nor does anyone else."
Why Dobbs ruling is only the beginning
Annie Laurie and Barbara were both on this week's episode of FFRF's "Ask an Atheist" Facebook Live feature, joined by FFRF Attorney Liz Cavell and constitutional law Professor Caroline Corbin, to discuss the latest developments in the extremist crusade to end all abortion in the United States — especially the recent attacks on medication abortion. Watch the captivating conversation here.
Our lobbying arm has had a busy week
Our lobbying arm had it hectic, too. FFRF Action Fund Senior Policy Counsel Ryan Jayne submitted written testimony to the Michigan Legislature urging it to completely ban the abhorrent practice of child marriage. The Fund condemned passage of a Texas bill to permit "chaplains" in schools. "Chaplains who are not certified as school counselors are not properly equipped to deal with the complex problems that arise in a public school setting," stated FFRF Action Fund State Policy Manager Ryan Dudley in his written testimony to the House. And the Fund singled out two Texas politicians — one for being its "Secularist of the Week" while censuring the other as "Theocrat of the Week." Find out who they are.
Religion is fairy tales


"Religion is fairy tales," veteran freethinker Jim Haught writes this week. "A bizarre flaw taints the human species: Over the millennia, a handful of people have concocted imaginary, invisible gods — then multitudes have worshiped them as if they actually existed."
It's a sentiment that we agree with — which is why, with your help, we try to ensure that such imaginary beings do not exercise any power in the public realm.