Happy Friday, everyone! I'm filling in for FFRF Communications Director Amit Pal, who normally writes your weekly update from the Freedom From Religion Foundation. But he's busy in Washington, D.C., representing FFRF (and you!) at the Religion News Association conference.
So, let's take a look at what FFRF has been working on and involved in this week.
Spreading the news
FFRF is taking out a full-page ad in both the Tallahassee Democrat and the Miami Herald this Sunday with the headline: "Yes, Governor DeSantis — You're Right. Our schools are for education, not indoctrination."
We ask Floridians to wake up to the growing dangers of religious control of their state government and public schools, including how their governor, who insists "Our rights come from God," is censoring books, free inquiry and classroom debate over gender, sexual orientation, race and Black American history.
FFRF gets victory in Minneapolis schools


FFRF was able to get the Minneapolis Public Schools to stop holding quarterly mandatory all-staff meetings at Hennepin Avenue United Methodist Church. Employees previously had to go through multiple church rooms in order to get to the meeting room in the basement, where they often sat for hours-long meetings.
'Don't Say Gay' copycat bills increasing
FFRF is concerned about the increasing legislation around the country that mirrors Florida's notorious — and religiously motivated — 2022 "Don't Say Gay" bill. A year after the passage of this controversial proposal, some 14 states have introduced at least 21 varying bills aimed at accomplishing the same thing as Florida's detrimental legislation.
FFRF supports new rules for faith-based providers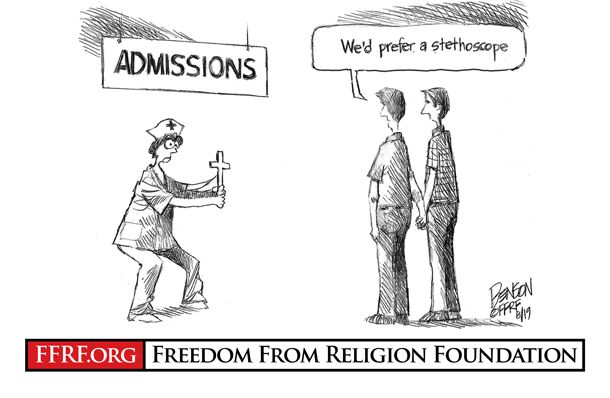 FFRF supports the new Biden administration rules for handling of government services by faith-based providers — while also suggesting how they can be further improved.
"These proposed rules largely undo the damage of the current regulations, which are hostile to true religious liberty, contribute to a dangerous mixture of religion and government, and sacrifice the well-being of service beneficiaries for no good reason," FFRF Senior Policy Counsel Ryan Jayne writes to various federal departments in a formal comment on the Biden administration's proposed rule changes.
FFRF calls out federal judge
FFRF is calling out a Trump-appointed federal judge who seems prepared to ban a drug that helps perform medication abortion.
Back in 2019, when Matthew Kacsmaryk was nominated by Trump for a federal judgeship, FFRF documented his extremism by showing his history of overtly anti-abortion and anti-LGBTQ+ activism. Now, this judge, who is not a physician, is playing doctor by seeking to force the Food and Drug Administration to withdraw its 22-year-long approval for the safe drug Mifepristone.
FFRF urges boycott of Walgreens


In related news, FFRF sent out a national action alert urging members to pressure Walgreens to recant its announced policy to deny medication abortion prescriptions even in some states where abortion remains legal. Take action if you have not already!
FFRF to FEMA: Cancel church funding


FFRF is again demanding that the Federal Emergency Management Agency rescind a proposed $1 million-plus handout for a Kentucky church (to occasionally double as a tornado shelter). Unfortunately, after FEMA put a hold on the funding to build this First  Baptist Church in 2022 after hearing from FFRF, it is moving forward with the grant, whereby approximately $1.2 million will be used to construct the new building, which will be owned by First Baptist Church.
FFRF: Coach must respect students' rights
It has been announced that Joe Kennedy has been officially rehired as a member of the Bremerton (Wash.) High School football coaching staff, as a result of the Supreme Court's ruling last June in Kennedy v. Bremerton.
Kennedy falsely claimed that his prayers on the 50-yard line after high school football games were "personal" and "private" despite his clear intent to involve students and other game attendees in the prayers. It is not clear exactly what Kennedy will do when he begins interacting with players again in a few months, but all signs point to him continuing to push religion on students, especially with the uberconservative Supreme Court behind him. Students need to be ready to defend their rights. FFRF will be there to help.
FFRF tells S.C. council to remove religious display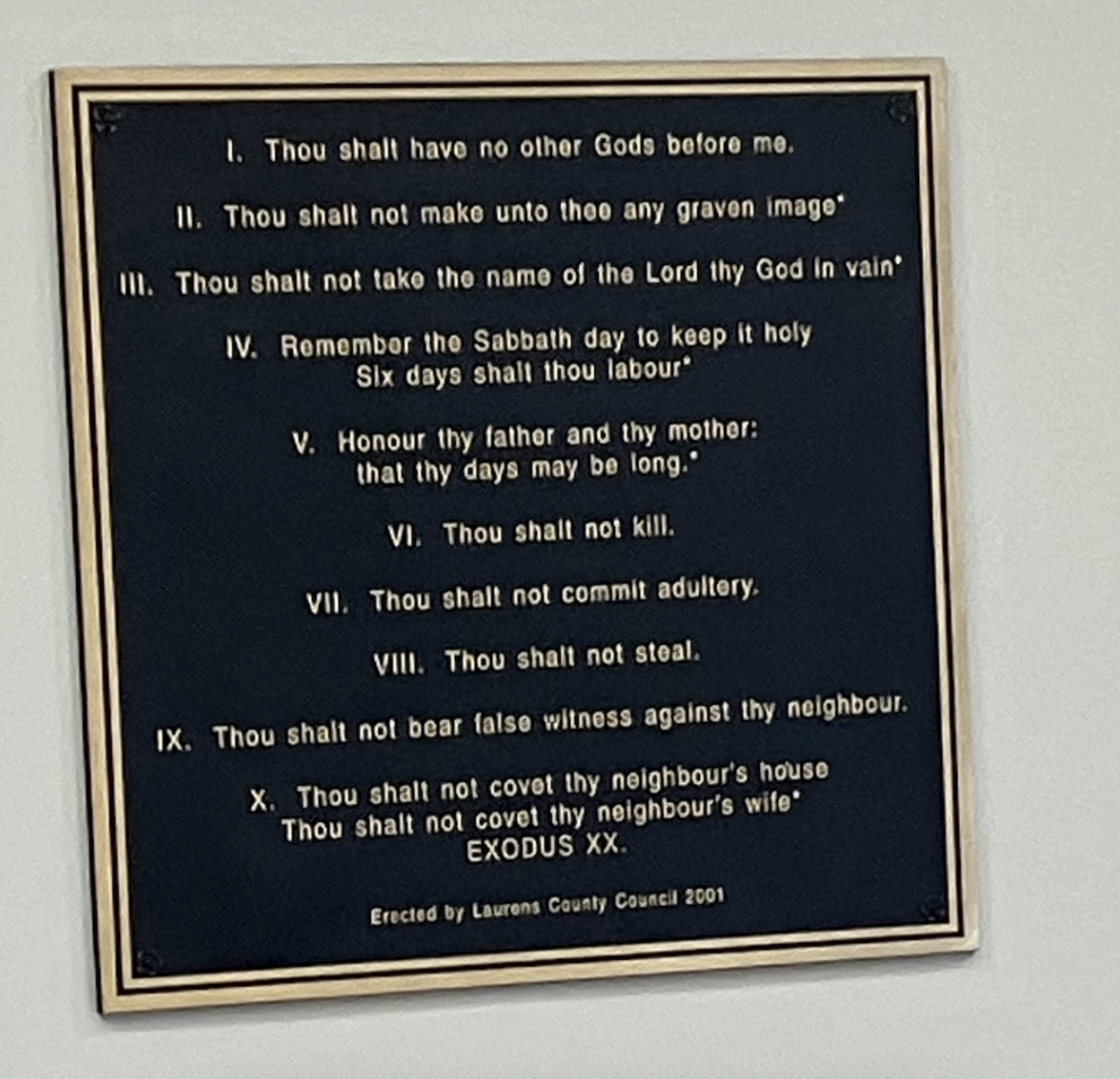 FFRF is urging the Laurens County (S.C.) Council to remove a Ten Commandments display from its courthouse.
A concerned resident reported to the national state/church watchdog that the county courthouse has a Ten Commandments plaque on display in the hallway next to its courtroom. According to the display, the plaque was erected by the Laurens County Council in 2001.
FFRF warns about Israel's theocratic government
The current government in Israel, quite certainly the most theocratic in the country's history, has launched a full-out onslaught on all things secular.
More than half of the seats in the ruling coalition belong to far-right parties that are driving the very unsecular official agenda. Israeli Prime Minister Benjamin Netanyahu has forged a compact with the most regressive political formations on the country's landscape, promising to do their bidding as long as they enable him to stay in power and escape prosecution for his alleged corruption.
Who's allowed to defend state/church separation?


On FFRF's blog site, freethoughtnow.org, FFRF Attorney Chris Line, in the context of a legal development over a state/church case, analyzes and warns about the alarming trend by the Supreme Court to deny state/church plaintiffs the right to sue, while privileging Christian plaintiffs.
It's hard living in a conservative state
In this week's blog by James Haught, he writes, "We who live in conservative rural states suffer an annual nightmare as reactionary legislators try to wreck personal freedoms and sound science."
Actor Madison Arnold on 'Freethought Matters'
Longtime FFRF member and veteran actor Madison Arnold reflects on his near-lifelong atheism and his 50-year acting career on this week's episode of "Freethought Matters," FFRF's weekly TV show.
Arnold, who's been a member of FFRF since 1980 and became a Lifetime Member in 1995, is a character actor who's appeared in dozens of movies, TV and plays. He's guest-starred in countless TV episodes, including "Hill Street Blues," "Starsky and Hutch," "CSI Miami" and "The Good Wife." Movie credits include "Escape from Alcatraz," "Stir Crazy," and "Presumed Innocent."
Listen in: The Delusions of Crowds


Freethought Radio this week discusses local and federal state/church victories and complaints; Walgreens and abortion; new rules for faith-based providers. FFRF attorney Chris Line describes the controversy over University of Colorado coach Deion Sanders praying with students. Then we talk with neurologist and financial theorist William J. Bernstein about his book "The Delusions of Crowds: Why People Go Mad in Groups."
Priest abuse discussed on 'Ask an Atheist'
On this week's episode of FFRF's "Ask an Atheist," FFRF Associate Counsel Sam Grover speaks with Peter Isely and Sarah Pearson, two members of a group dedicated to exposing Catholic priest abuse of children.
Have a wonderful weekend, from all of us at FFRF! And thanks for being a member!