Gather ye round my fellow heathens and hear my testimony! For I say unto you that lo, there shall be a resurrection this Saturn's day in the city of Brookville, Indiana! For our message of free speech and equality is good and cannot be purged from the public square!
After FFRF's Winter Solstice banner was stolen in early December from the Franklin County courthouse lawn, we knew that something had to be done. That's why FFRF is announcing our Resurrection Pledge Campaign! Now freethinkers can pledge small donations in the event that one of FFRF's freethought displays is stolen or vandalized this holiday season.
Not only will this allow us to fund the replacement of our displays—like the new, identical banner going up in Franklin County on December 19—but it will also deter would-be criminals who will have to reconcile their disdain for free speech with the fact that messing with FFRF's displays will result in a healthy chunk of change being donated to our cause.
I've been working at FFRF for a mere 2 years now, but already I've witnessed more than enough hatred levied against our freethought exhibitions:
Earlier this year, three thieves stole our "In Reason We Trust" sign from the Wisconsin capitol. In 2014, vandals ruined our Bill of Rights "nativity" sign in Arlington Heights, Illinois after someone slashed our 2013 Winter Solstice banner in the same park. And also in 2013, our Saturnalia billboard was the target of attempted arson in Pitman, New Jersey.
These are only the most recent in a series of crimes against our freethought messages dating back decades.
[In response to 16 billboard-sized paintings of "the life of Jesus" erected in a public park in Ottowah, Ill.] FFRF erected a banner saying "Jesus Christ is a Myth" in December 1992. FFRF members attending the rally were shouted down, spat upon and pelted with snowballs. A Sunday school teacher stole the banner. A second banner placed by FFRF later that month was burned and a third was smeared with paint by a man dressed as Santa . . . In 1993, FFRF again placed the banner, adding on the back: "Religion Is Divisive," hanging it high between two trees. It was stolen 36 hours later.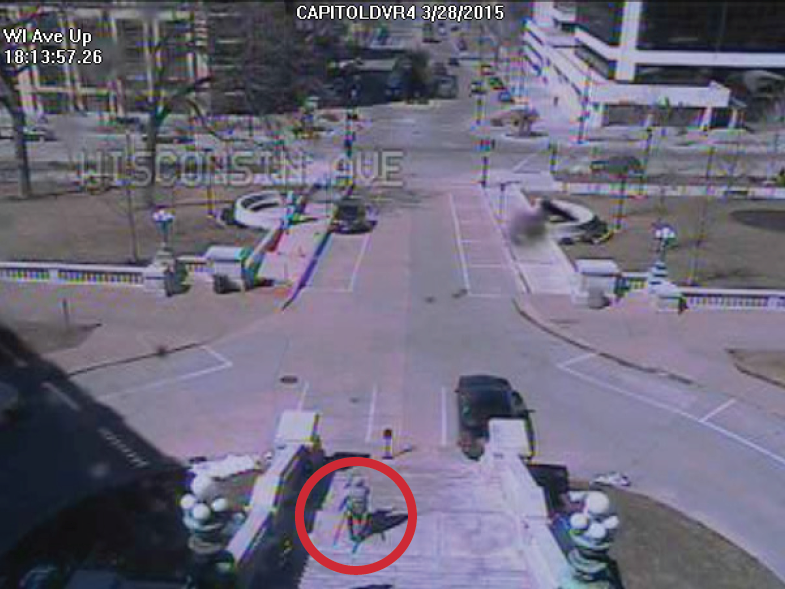 Unfortunately this sort of hateful, criminal reaction to atheists and agnostics promoting our viewpoint is not going away any time soon. And in our experience there are rarely legal repercussions for the thieves and vandals who seek to censor us, even when they're caught on camera. So we've decided that if we can't arrest 'em, we'll just convert 'em into donors to the cause!
FFRF will use all donations to our Resurrection Pledge Campaign to replace and multiply our displays across the country, in any location where religious groups are advertising their beliefs on government property. The idea is simple:
1. People are tempted (by Satan?) to steal our secular displays.
2. They ignore the Ten Commandments and do it.
3. So we ask people to pledge money and donate only if one of our displays is vandalized.
4. We ask them to donate that same small amount each time a display is stolen or destroyed this season.
5. We use that money to replace the display(s) and put the leftover money toward more displays.
6. So the thieves are financially supporting FFRF and causing more displays to go up! Hallelujah!
While FFRF would prefer that the government stay neutral on religion altogether by prohibiting all religious and freethought displays, many government entities prefer to create "forums" for the display of private religious messages. Through the Resurrection Pledge Campaign, FFRF will ensure that atheists and agnostics get to participate equally.
So please, if you like what we do and what to support freethinkers gaining equal access to the marketplace of ideas, then make this secular miracle happen! Pledge $5, $10, whatever you can spare to our campaign. Amen!